ESTEE relies on its people to meet its objectives and fulfil its mission to develop products designed and engineered to transform wastes into resources using bio-inspired and synergistic solutions.
During the past six months, we have continued our recruitment drive, hiring highly-qualified experts from various fields and disciplines, such as project management, engineering, wastewater, water production, food production, architecture and sustainable habitats.
In May 2017, Yves Rothenbühler joined ESTEE as Senior Project Manager. Yves has extensive experience in engineering R&D and project management in Switzerland and Japan, as well as a Master's Degree in Microengineering and a PhD in Engineering Science and Technology from EPFL (Swiss Federal Institute of Technology, Lausanne, Switzerland). Yves is supervising a team of project managers and providing ESTEE with his expertise in project management and associated practices, methodologies and tools in R&D engineering and prototyping, in the context of artificial closed ecosystems and biological life support systems and their related terrestrial applications.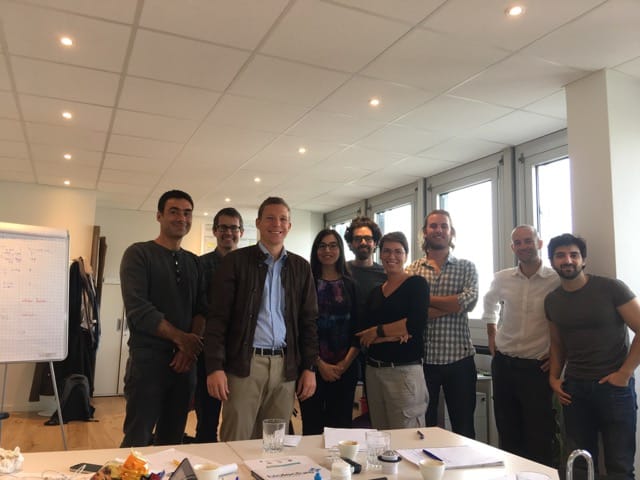 In June 2017, Petros Dimitriou-Christidis joined ESTEE as Project Manager in Wastewater Recycling. Petros has a PhD in Civil Engineering, Environmental Division from Texas A&M University, as well as a Master's Degree in Environmental Engineering from University of California. He has significant experience in wastewater engineering, in particular working for two top wastewater engineering consulting firms (Carollo Engineers and CH2M HILL) in the United States. Petros has four years of postdoctoral experience in wastewater micropollutants at EPFL, where he successfully designed and executed a comprehensive research project on the occurrence, fate and behavior of legacy and novel organic wastewater micro pollutants in wastewater treatment plants. More recently, Petros participated in a multi-disciplinary project, co-sponsored by Firmenich and Bill and Melinda Gates Foundation, on the engineering of fragrance formulations to counteract malodors from latrines and toilets. Petros is providing ESTEE with his knowledge and expertise in technological processes related to wastewater treatment and water purification. He oversees the Waste Management, Treatment & Recycling function of our Scorpius Habitat P1 prototype.
As of 1 July 2017, a Water Production Project Manager will join ESTEE to provide specific expertise on technological processes related to wastewater treatment and water purification, such as microfiltration, nanofiltration, UV treatment, ozonation, distillation, chemical treatments, charcoal filters, among others.
We are currently receiving applications for two additional positions: An Autonomous Habitat Project Manager and a Food Production Project Manager
Internship Program
ESTEE has a dedicated six-month internship program for university students (engineering, architecture, biotechnology, agriculture etc.) wishing to gain practical experience and deeper knowledge of their expertise field in the context of human space exploration and Earth-based applications.
In the past six months, we have hired two interns from Université de Technologie de Compiegne in France. They have been supporting the team on greenhouse activities and closed habitats' humanities and technology.
Two additional engineering interns from the EPFL are joining ESTEE in July and will be closely working with ESTEE project managers on clean water recovery and the optimization of the urine nitrification bioreactor.